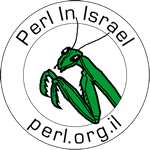 Perl Workshop in Israel, 2012
| | |
| --- | --- |
| Workshop: | 28 February 2012 |
The Perl Workshop in Israel, 2012 is a free, one-day workshop held in Shenkar college. The main campus on Anna Frank street 12, Ramat Gan, Pernick building (the old building), Rooms 161-163. The workshop will be held on 28, February 2012 beginning at 8:30 AM. Schedule
The workshop theme is "Perl in Practice". The talks presented at the conference will be about practical uses of Perl, and practical ways to improve your Perl code and development efforts.
Free
This year, the event is going to be free of charge, but it still requires registration. This means we will fully rely on our sponsors to cover the expenses of providing refreshement, lunch and inviting guest speakers.
Registration
If you have not attended previous events, you will have to first create a "New user".
If you attended the Israeli Perl Workshop in 2007 or any other Perl event that used the "Act" system then you already have an account. Log in using your credentials. Once logged in you will see a link "register for this conference". Click on that and then click on the "Join Perl Workshop in Israel, 2012" button. You will get to a page titled "Main private page" where you will be able to "update your information", "manage your photo", "submit a talk" and a few other things.
Privacy: We won't give away your e-mail and we won't send unrelated content, but by registering you agree to receive updates about the Perl Workshop and the Perl Monger events.
If something isn't clear or not working please contact the organizers ASAP.
What participants said
It was great, thanks Gabor and Sawyer for all the hard work, and thanks to all the sponsors, especially booking.com.
Looking forward for the next event ;)
Amir Friedman
Thanks for giving us the opportunity to meet. It was an inspiring and well organized convention. it was a pleasure to attend.
Oded Haim-Langford
Media Partners
The Perl Weekly newsletter and the Perl Maven site help spread the news about the Perl Workshop.
Previous events in Israel
Latest News
27/02/12
Last minute room change.
Unfortunately we have to change rooms in the last minute.
They are at the same address: Shenkar College, Anna Frank street 12, Ramat Gan
but they have different number (oh what a surprise after the title of this post :)
Pernick building (the old building), Rooms 161-163.
24/02/12
Video promo
A bit late but finally Sawyer and myself made two small video promos for the workshop:
Feel free to share these with your friends and co-workers.
22/02/12
Pre workshop social event
As at other Perl workshops we'll also have a pre workshop social meeting. Check out the details, add your name and join us!
15/02/12
Beta version of the schedule
We have a beta version of the schedule. Please login to the system and mark the talks you are would like to attend. Mark them even if they are at the same time.
If we see that some very popular talks fall in the same timeslot we might still rearrange the schedule.