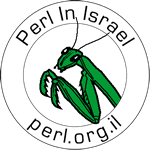 News
17/01/13 12:53 by Gabor Szabo (‎szabgab‎)

A bit late, but I am glad to let you know the first batch of talks have been accepted to the Israeli Perl Workshop. Please check the list of talks and register on the web site.
As we mentioned earlier, this time we are going to charge an entrance fee to cover the expenses. It will be 90 NIS per person. The payment gateway will be open at the end of January.
We are also still looking for more talks.