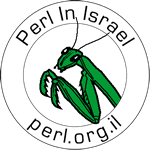 News
05/02/13 09:11 by Gabor Szabo (‎szabgab‎)

I was hoping to set up payment via the web site, but things are moving a bit slow and we are getting really late so I think it's better to start doing it semi-manually.
On the web site of the Perl Workshop I put the prices and a PayPal button. There is an early-bird price valid till the 17th February (less than 2 weeks from now).
After you paid, please forward the receipt to gabor@pti.co.il so I can mark it via the admin form of the web site.